Chamber Business Interchange - GPRC Co-op Program
Wednesday, November 24, 2021 (9:00 AM - 10:00 AM) (MST)
Description
The Grande Prairie & District Chamber of Commerce invites you to a Business Interchange explaining the Grande Prairie Regional College Business Administration Co-op Program.
The session is scheduled for Wednesday, November 24 at 9:00 AM via Zoom. There is no cost to attend but registration is required to receive the Zoom link.
In a CO-OP course, students alternate between periods of work experience and in-class learning. For students in the Business Administration Diploma Program, the CO-OP work term takes place between their first and second year of their program over a four-month period (May – August). The CO-OP program provides students the opportunity to put classroom learning into practice. The CO-OP program requires students work a minimum 420 hours total.
To be considered for the CO-OP, students must:
Be selected for participation in this course by the Department of Business faculty CO-OP committee (includes an application and interview process).
Be registered in the Business Administration Certificate Program at GPRC.
Have completed the first semester required courses found within the Business Administration Certificate and registered in all remaining Business Administration Certificate courses for the Winter semester prior to the start of the work term.
Have a minimum of GPA of 2.5.
Intend to enroll in a Business Administration Diploma prior to the work term.
The employer benefits of hiring a GPRC CO-OP student include:
Access to a supply of highly motivated and capable students to perform specific tasks or projects.
A cost-effective means of evaluating future employees – an extended interview.
Meet short-term needs due to vacation schedules, transfers, promotions, training commitments, peak workloads or special projects.
CO-OP students bring enthusiasm and a host of new ideas and approaches which can have a positive effect in the workplace.
Our presenters are Carly McLeod, Dean School of Business at GPRC and Keston Luke, Faculty - Department of Business and Office Administration at GPRC.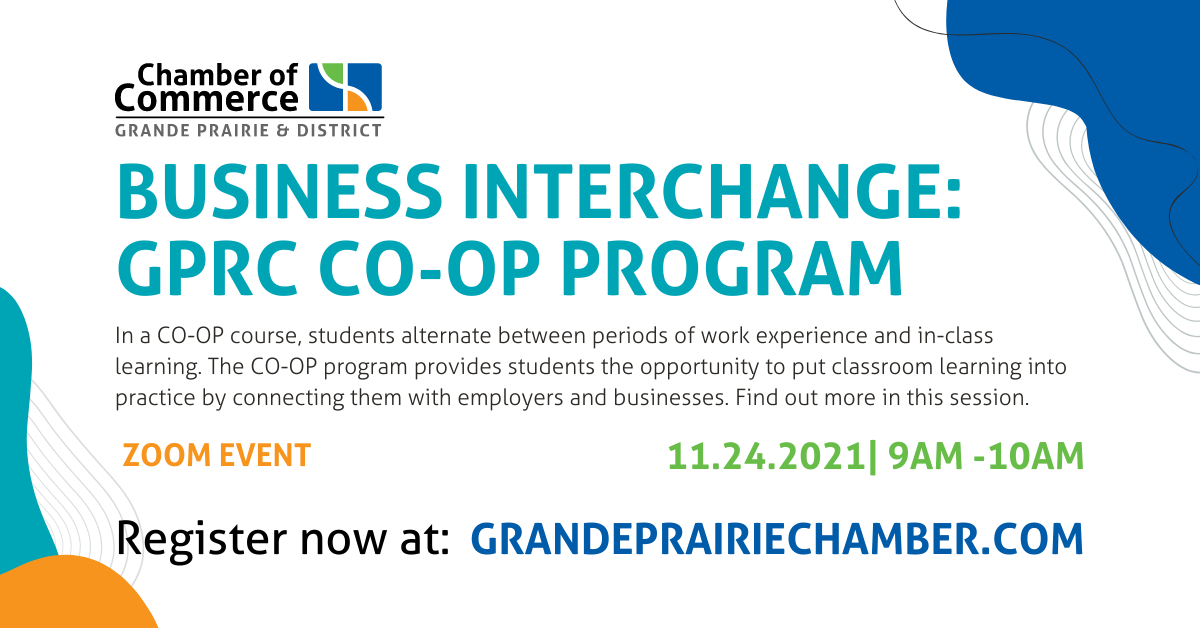 Address



Grande Prairie

,

AB

Canada



Wednesday, November 24, 2021 (9:00 AM - 10:00 AM) (MST)
Categories
Information & Education
Chamber Of Commerce