2021 Chamber AGM, Awards and Chair Salute - VIRTUAL PARTICIPANTS
Thursday, December 2, 2021 (6:30 PM - 9:00 PM) (MST)
Description
The 2021 Grande Prairie & District Chamber of Commerce Annual General Meeting, Awards and Chair Salute is scheduled for Thursday, December 2.
To participate virtually, the cost is $20 + GST and you will receive a Zoom link. You will log on for the AGM at 6:30 PM followed by online networking with Leah Fujarczuk from our office until the start of the Awards and Chair Salute supported by Chambers Plan represented by local broker HUB International at 8:00 PM.
The AGM will include a review of our activities in 2021 and election of our 2022 Board of Directors. A reminder that each Chamber Member business in good standing is entitled to ONE vote.
Door prize draws will end the evening.
Contact the Chamber Office by phone at 780-532-5340 or email info@gpchamber.com for more information.
For in-person attendees, doors open at 5:30 PM with dinner at 5:45 PM. The cost is $60 + GST and there is a separate registration on our Events Calendar.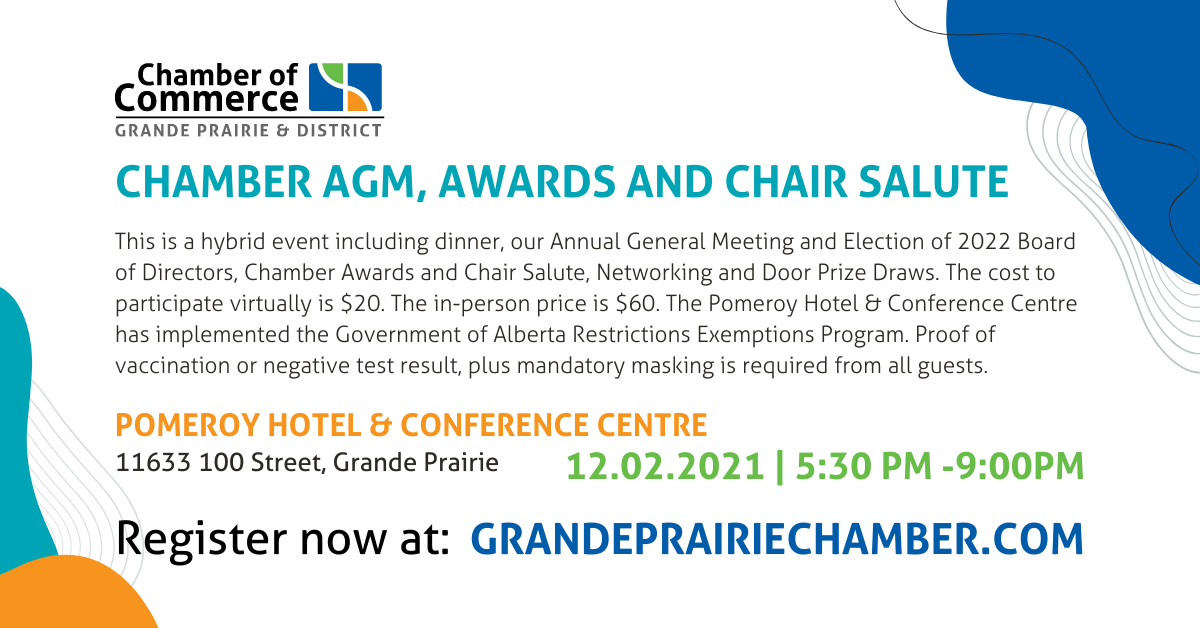 Grande Prairie

,

AB

Canada



Thursday, December 2, 2021 (6:30 PM - 9:00 PM) (MST)
Thursday, December 2, 2021 6:30 PM to 9:00 PM
Categories
Information & Education
Chamber Of Commerce