Impact Grande Prairie
Categories
ASSOCIATIONS & NOT FOR PROFIT
About
Hi Grande Prairie. Just thought I would introduce myself to you all. I am the Network coordinator for IMPACT Grande Prairie (formerly Prevention of Family Violence. I have now lived in this great city of Grande Prairie for one year and I am loving it. This amazing city is full of the friendliest and most caring people I have ever met. I was born in the Ottawa Valley, raised in Edmonton and then lived in Athabasca and this is where I relocated here from to be with my 2 grown sons and 4 grandchildren as they all moved here many years ago for work opportunities.
All our staff have made me feel so welcomed and I appreciate those that helped me out with my interviews during my orientation and really spent the time helping me understand all the roles at Odyssey house and Serenity place. We have a very organized and smooth operation going on and I love the synergy of the office and the team/family atmosphere.
I have had an amazing history of very rewarding careers including Chamber manager, radio station manager and town councilor. I have a solid background in working with boards, tourism, victim services, marketing, advertising and collaboration. IMPACT Grande Prairie is a group of service providers committed to preventing family violence in AB's Northwest. Through supporting agencies and building confidence we believe violence is preventive and can be dealt with through collaboration, effort, education and public awareness. I look forward to my new role and bringing more attention and knowledge of our role to the community. Not only do we want to prevent family violence we also want to eradicate it.
I am also a proud member of the Grande Prairie Chamber of Commerce and the Swan City Rotary club.
I grew up understanding how important it is to build community. I come from two strong parents. My dad was a director of AADAC and ran a halfway house in Legal and my mother worked for 2 decades with the Disabled Transport System in Edmonton. From an early age I learned that the only way to build community is to get involved and work together to make great things happen. Community contribution was modeled to me in many forms as a kid, and to do so in my adult life was a natural progression. I am very passionate about volunteering and giving back to my community. Service above self.
I believe community is not about geographical boundaries, it is about each of us working together for a common cause. Whether that be building healthy, connected neighborhoods, relationships, vibrant school communities, or strong cities and regions, we all need to play a role in seeing this happen.
I can't wait to get back out and about and continue networking and meeting members of various organizations, agencies and the business community. I am very happy and excited to be involved and I look forward too many exciting things to happen through the year with the rebranding and imaging of changing Prevention of Family Violence to IMPACT Grande Prairie. I love meeting people and I feel I can learn from them and strive to leave them feeling better after each interaction.
I can be reached at prevention@odysseyhouse.ca and please like and follow us on Facebook and Instagram. I hope you all stay well and stay safe
Joanne Peckham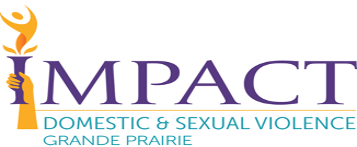 IMPACT Grande Prairie (Formerly the Prevention of Family Violence Network)
...is a coalition of service providers committed to preventing family violence in Alberta's Northwest, supporting agencies and building confidence that violence is preventable and can be dealt with through collaborative effort, education, and increased public awareness. Family violence is defined by the Prevention of Family Violence Network as a pattern of abuse of power and control within relationships of family, trust and dependency.
Below is what we accomplished last year. Currently dates for 2020 for all these events are TBD and then we will post on our social media platforms and share the news.
Show your support and #GoPurpleGPAB by taking part in advocacy efforts this year:
Take Back the Night March | Nov 1, 2019 | Revolution Place
The march will start at 6:30pm at Revolution Place. The purpose of the march is to raise awareness and attention to Family Violence Prevention in our Community. There is no cost to attending this event.
Proclamation and Launch | Nov 1, 2019 | Revolution Place
At 7:15 the Storm game begins, the City of Grande Prairie and the County of Grande Prairie will read a proclamation declaring November as Family Violence Prevention Month.
Breakfast with the Guys | Nov 20, 2019 | GPRC
Set your alarm and get to GPRC at 6:30 for breakfast, there is not cost to this event, but you must pre-register at https://www.eventbrite.ca/e/breakfast-with-the-guys-tickets-65569633539
Conversation w the Guys | Nov 20, 2019| Better than Fred's
This year we are inviting men in our community to join us on at Better Than Fred's for Conversation With The Guys. This event is aimed at connecting and encouraging men to further the conversation around ways they can connect, support, and empower one another to be leaders in violence prevention in our community. There is not cost to this event, but you must pre-register at https://www.eventbrite.ca/e/breakfast-with-the-guys-tickets-65569633539
Go Purple Social Media Day | Nov 22 | Everywhere
Show us your purple! Wear purple on this day in support, take a selfie or group picture, post on your favorite social media outlet and include the below hashtags to raise awareness and support Family Violence prevention in your community! Use your community short-form hashtag
#GoPurpleGPAB #GoPurpleAB #LearnWhereToTurn
For more info go to https://www.facebook.com/groups/922796738085461 or search for Prevention of Family Violence Network Grande Prairie.
Every November is Family Violence Prevention Month. It helps us focus on the things we can do to:
increase our personal awareness and take action to prevent family violence
help ourselves or anyone who is experiencing an abusive relationship
encourage others to learn more and act.
Did you Know?
Victim Services opened 1544 files related to Domestic Violence.
Odyssey House saw a 25% increase in women and a 61% increase in children contacting them for emergency shelter services. Last year 778 women with 524 children called to ask for emergency shelter services.
The John Howard Society of Grande Prairie offers treatment programs for men and women who have used violence in intimate relationships. There were 162 clients that were referred, of the 74 that who went into a treatment group, 66% of them completed.
Images